The news making the rounds in football circles have it that former Inter Milan coach, Antonio Conte may be in line to replace Ole Solskjaer as Manchester United's new coach.

Antonio Conte is not new to the English Premier league (EPL). In 2016/2017 season, he was at the driving seat at Chelsea and piloted the team to Premier league title.
Before then, he had been with Juventus where he guided the team to three Serie A titles. He went back to Italy last season to steer Inter Milan to Serie A title.
If he eventually becomes Manchester United's coach, he is expected to bring along what he's known for:
He is expected to bring pragmatic changes into all the departments in the team. The defence will be overhauled. Instead of a back four, Conte will be adopting his usual back three.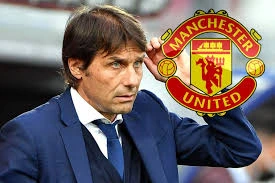 Before his coming to Chelsea, the team suffered humiliating defeat in the hands of Liverpool and Arsenal. When he took over as coach, he converted Chelsea's defence line to three players- David Luiz, Gary Cahill and Cesar Azpilcueta. The changes brought about 13 match winning run for Chelsea that eventually led to winning the Premier league title.
At Manchester United, we expect to see changes in the current defence setup of Harry Maguire, Luke Shaw, Lindelof, and Raphael Varane .
And if the reports we are hearing is true, he may bring in one or two players from Inter to take care of the awful and disappointing defending by Harry Maguire and Luke Shaw as we saw in the humiliating loss to Liverpool last Sunday. Surgery, no doubt, will be performed in this area.
Antonio Conte is an apostle of attacks-minded wing backs. He believes so much in wing backs that are creative and have a flair for joining the attacks. We expect to see some players getting new roles in this area.
With midfielders, Antonio Conte likes to work with those who are energetic, sharp and full of action. At Inter, he relied on Nicolo Barella Marcelo Brozovic to get results. At Chelsea, he maximised the use of Ngolo Kante to telling effect.
We expect to see his conversion of players to play out again at Manchester United. At Chelsea, he revived the fledging career of Victor Moses from being an attacker to a wing back. The position ensured he made 34 appearances for Chelsea.
At Manchester United, we expect some players taking up new roles from their hitherto familiar positions. It's going to be a tale of the unexpected, going forward.
And lastly, we expect to see Conte walk away when the ovation is loudest. He did just that at Inter.