Let us begin with a story, former President Olusegun Obasanjo told in 2014. The then Akwa Ibom state governor, Godswill Akpabio did something quite funny and eye-opening. While reacting to the crisis in the Peoples Democratic Party (PDP), Akpabio, confessed to the putrid performance of governments of the PDP as they faced an uncertain journey to the polls: "We have messed up," he pleaded with Obasanjo, whose help he sought, "Please [don't abandon us]. For me, I don't want to go to jail and my children are too young…"
1. Kirirki maximum security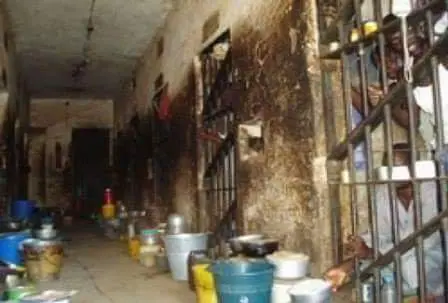 Congested prison conditions in Nigeria
The Kirikiri maximum security prison located in Apapa, Lagos is already infamous for their congestion. As at February 1, 1990, had a population of 1,645 but only a rated capacity of 956 .
Kirikiri Maximum Security Prison is also infamous for its "degrading" treatment of prisoners , "appalling" living conditions, sub-standard medical care, and a very high death rate.
Currently, its official capacity is 1,056. It was first established in 1955. Paul Chiama of Leadership once wrote that "The mention of Kirikiri first reminds any Nigerian of" this prison. It has held notable prisoners like: Chief Bode George, Clifford Orji, Al-Mustapha and Major General Shehu Musa Yar'Adua.
2. Kuje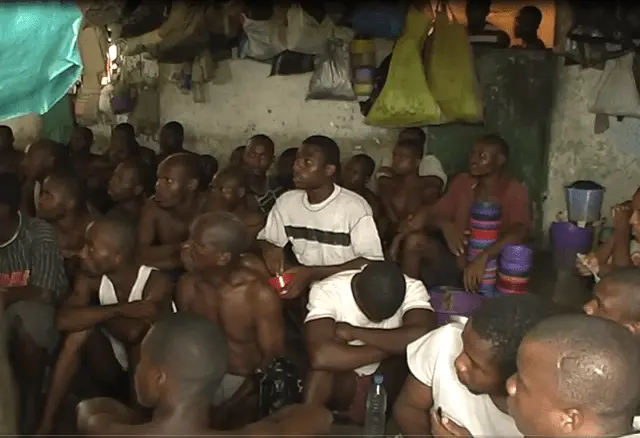 Nigerian prisons are dens of dehumanization
The Kuje prison is located in Abuja, Nigeria. Though not as well-known as the Kirikiri Maximum security prison in Lagos, its notoriety is growing.
In the 1990s, Kuje established its unsavory reputation as the place pro-democracy activists and critics of government were sent by the military regime.
People who have been in the prison or are currently there include: Abba Moro, Olisa Metuh and Nnamdi Kanu.
3. Gboko
Sleeping conditions are brutal
Gboko is a fast-growing town in the Benue state of North-central Nigeria. The name Gboko also refers to a Local Government in Benue state. The population for the town is over 500,000, mostly Tiv people.
Despite plans by the federal government to ensure the reformation of the criminal justice system, prisons in the country, including the Makurdi medium security prisons remain congested include Gboko.
4. Jimeta
Prison Breaks are common due to bad conditions.
The Jimeta prison in Damaturu, Yobe state is especially dangerous because most times it houses religious extremists and Boko Haram prisoners, which makes it prone to violent attacks.
Most people in this prison are not sure of seeing the next day. The Jimeta prison break in 2012 was an attack by 40 gunmen suspected to be members of the terrorist group Boko Haram.
The attack is thought to have been a bid to rescue imprisoned members of Boko Haram. About 40 prisoners escaped from the prison; seven inmates and one prison warden died. The escaped prisoners were largely Boko Haram members.
5. Ibara
Prisons in Nigeria are better avoided.
Some inmates of the Ibara Prison, Abeokuta, Ogun state have accused prison officials of extorting cash from them to carry out their official duties.
According to one of the affected inmates, on court days, prison officials would force them to contribute money to fuel vehicles adding: "If not, they won't take you to court, who knows, maybe it is on such a day that the court may set that person free.
"This prison is congested due to unnecessary remand of innocent persons because they have no money to bribe the officials."