After a Christian student of the Shehu Shagari College of Education, Deborah Samuel was beaten and burnt to death in Sokoto state on Friday, May 12th 2022, a popular Nigerian politician, Adamu Garba, who is a Muslim follower has given his take on the issue.
While commenting on the issue, Adamu Garba said that as much as it is sinful to make any derogatory comments on Prophet Muhammad, Jesus Christ or any holy man, it is expected that such act be addressed by the law and not jungle justice.
Writing further, Adamu Garba said that Nigeria is a country that is governed by the law and that the attack in Deborah was barbaric, despicable and should be condemned.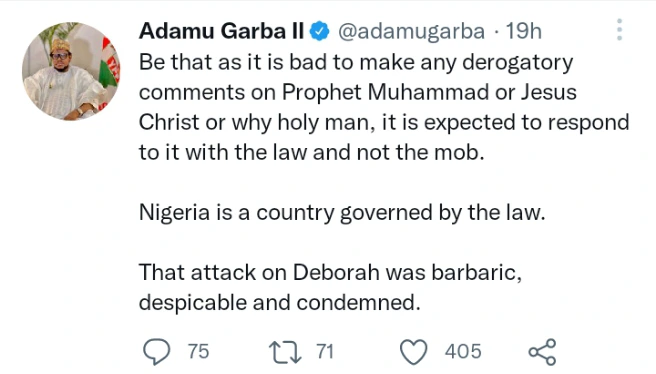 Adamu Garba is among the number of Muslim followers who have condemned the senseless murder of Deborah in Sokoto and with what he has said, it is obvious that not every Muslim will support jungle justice for anyone who is found insulting their prophet, Muhammad.
National Daily reveals Deborah was a 200 level student of the Department of Early Childhood Education in the college before her tragic death.