FFK reacts to video of Tinubu on exercise bike 
Former Aviation Minister and chieftain of the All Progressives Congress (APC), Femi Fani-Kayode has reacted to the video of the presidential candidate of the All Progressives Congress Bola Ahmed Tinubu riding on an exercise bike to prove it's fitness.
In the video that was by the standard of APC via his verified Twitter account, Tinubu could be seen riding on an exercise bike with the caption "Many have said I have died; others claim I have withdrawn from the presidential campaign. Well… Nope."This is the reality: I am strong, I am healthy and I am READY to serve Nigerians from Day One."
However, Fani Kayode while reacting to this Shared the reports of Tinubu exercising with the caption"Hale, hearty, healthy, strong and ready to go.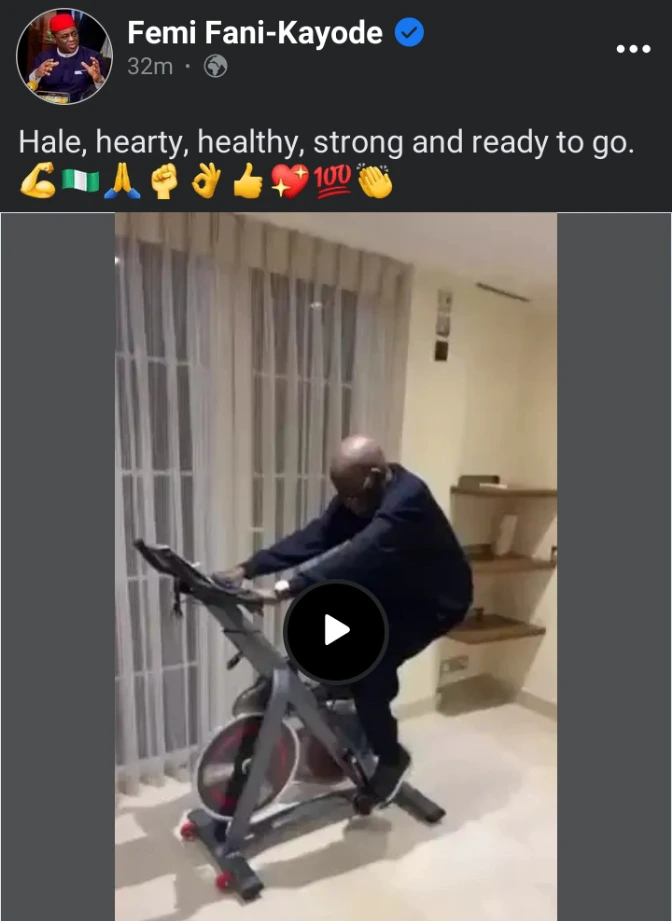 After Tinubu did not show up to sign the peace deal between presidential candidates for the upcoming 2023 election, people started to wonder where he was.However, his campaign mate and former governor of Borno State, Kashim Shettima, attended on his behalf.Ayo Oyalowo, a member of the APC's presidential campaign committee, explained that Tinubu had gone to London to rest as the reason for his absence.
However, it is unclear if the video the presidential contender posted to Twitter was actually shot in London.