As former Nigerian Deputy Senate President, Ike Ekweremadu and his Wife were arrested in UK by the UK authorities, for an alleged conspiracy to bring a minor to the UK for an organ harvesting.
The both couples who were arrested in UK by the UK authorities, and has been in the custody of the police appeared in court on Thursday. However, they were denied bail by the court, and the date of their trial was shifted to the 7th of July.Many Nigerians have however reacted to the alleged reports of Ike Ekweremadu and his wife's conspiracy for an organ transplant involving a minor. Amongst them includes, Nigerian social media influencer and celebrity, Charly boy.
In a statement released by Charly boy via his twitter handle, he revealed that whenever he thinks of how low we have sunk, he cry's for the country.
Below is the screenshot of his statement gotten from his twitter handle;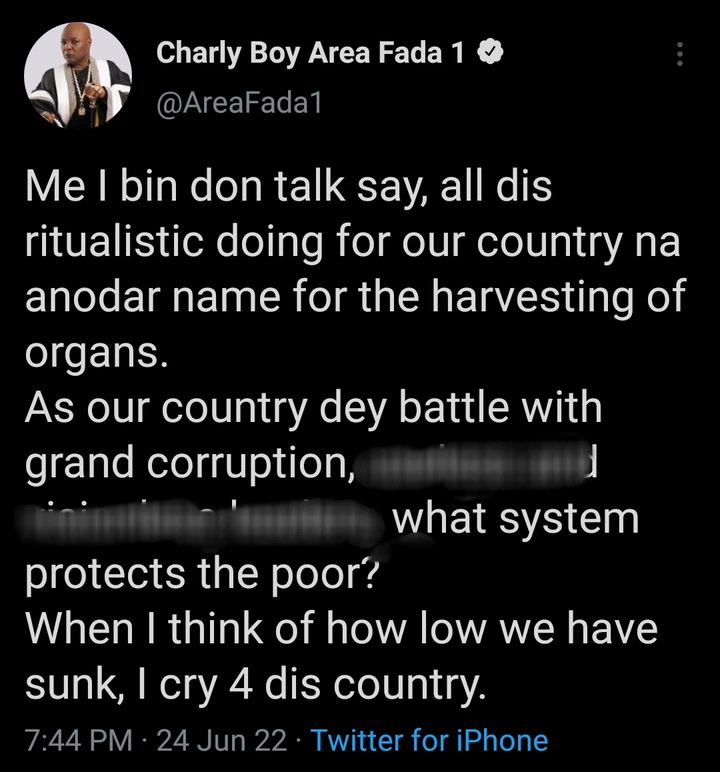 What do you have to say about this statement from Charly boy?