It was reported earlier today that President Muhammadu Buhari shunned the former Lagos State governor, Bola Ahmed Tinubu and the current Vice President, Yemi Osinbajo and supported former president Goodluck Jonathan, ahead of 2023 presidential race.
This decision that was taken by President Muhammadu Buhari caused several people to react differently. Based on that note, a well known human rights activist, Adeyanju Deji decided to react.
While speaking, he stated it clearly that Goodluck Jonathan will be one of APC's best candidates in 2023, making it know that they have other young candidates who are very competent and some serving Governors.
Adeyanju Deji ended his post by making it known that the former Rivers State Governor, Rotimi Chibuike Amaechi is another major candidate the APC can use, because Buhari likes him so much.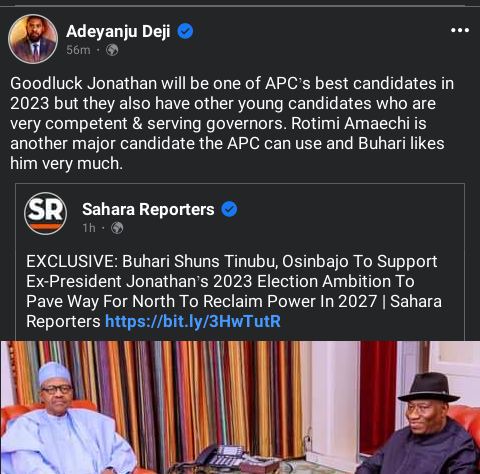 That's a great one from Adeyanju Deji. I really think that he made a valid point here. Goodluck Jonathan is going to be a very good candidate for the ruling All Progressives Congress in the year 2023, if he decides to join the party. But nevertheless, we have to wait till 2023 so as to know what will eventually happen.