Popular social political commentator and Lagos based All Progressives Congress Chieftain, Engineer Joe Igbokwe, has finally broken silence to the news report of alleged certificate forgery committed by his principal, Bola Tinubu as he blasts critics.
Engineer Igbokwe, who is a core loyalist to the former Lagos governor cum presidential candidate of the ruling party, was on his verified Facebook account to react to the viral news that his boss allegedly forged his education certificate to contest in next year's presidential election.
His statement goes thus, "Tinubu is prima school. Tinubu is secondary school. Tinubu is university. Tinubu is Harvard Business School. Tinubu is a world-class institution. Know this and have inner peace."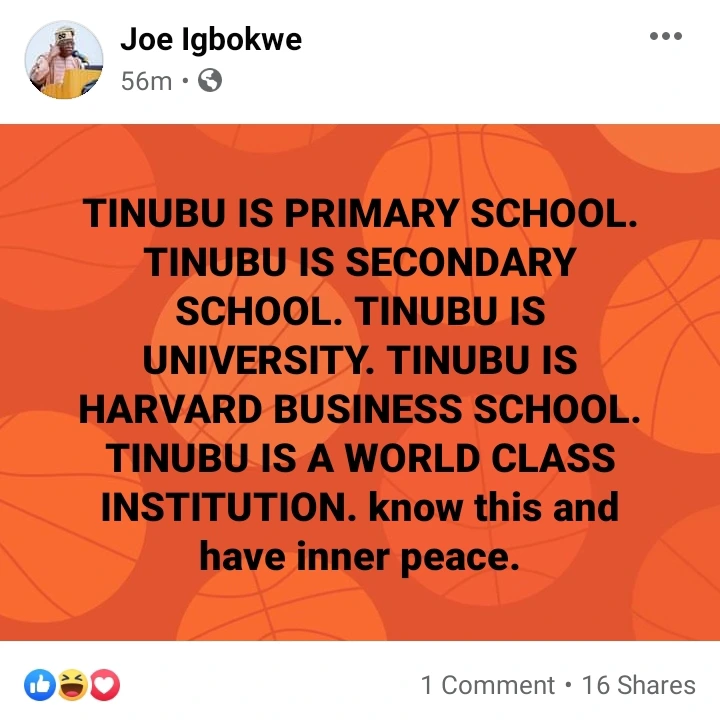 Going by what and how Engineer Igbokwe reacted above, he is simply saying that those who do not wish Tinubu well will always speak ill of him, but he added the stories about his principal is not new because he is an important personality in Nigerian politics today.
The recent allegation of certificate forgery against Tinubu started on Twitter earlier Saturday after he trended on the microblogging app with over 157,000 tweets, retweets and likes about him.
A photocopy of the educational certificate form submitted by Tinubu as published by The Whistler had shown that he left the spaces for primary and secondary school education blank and this was against his claim in 1999 to 2007 when he served as the two time governor of Nigeria's commercial state.
On those two occasions, it was reported that he stated that he attended Government College Ibadan (GCI) from 1965 to 1968 and this claim had been countered by a Nigerian columnist Femi Aribisala hours ago.
According to Mr Aribisala, he stated the affidavit that Tinubu attached to butteress his claim that he attended GCI in the said years was false and that as such, the ruling party presidential flag bearer should be charged for perjury for swearing to an oath by telling lies.
Meanwhile, the self acclaimed national leader of the ruling party is yet to respond to this allegation either in person or via proxy as Nigerians await his reaction towards this issue.
What have you to say about what Engineer Igbokwe had said about Tinubu's certificate forgery allegation?