Police PRO reacts to assault on female officer  
The Force's public relations officer at Federal Headquarters in Abuja, Prince Olumuyiwa Adejobi, has responded to the allegation that a female police officer was assaulted on the orders of her superior, Professor Dike Zainab of Area 11. This was made known via a tweet that was sent by a Twitter user and included the relevant authorities. The tweet, which includes a photo of the female police officer, reads:
I hope the @PoliceNG will prosecute Prof Dike Zainab of Area 11 who assaulted her Police Orderly and ordered her maids to beat her up as nothing will happen because the IGP"s wife is her friend?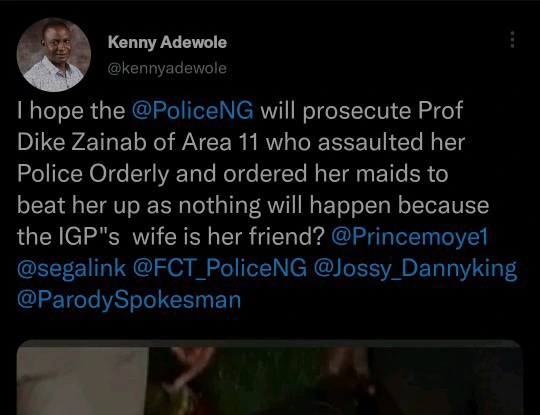 Click here to view it.
That got the attention of Prince Olumuyiwa Adejobi and, reacting to the said allegation, the PRO officer tweeted:
Assault on woman police: We have arrested the woman professor and her staff since the date of the incident, the matter is getting necessary attention it deserves. FCT Command will charge d case to court asap. It is condemned in totality. We will still update you shortly. Tnks