Popular Nigerian singer, Peter Okoye has recently gave a reply to a twitter user who said Nigerian celebrities should emulate the good work Sadio Mane is doing for his people in Senegal.
The Twitter user with the name, Tems, had commented under Peter's tweet saying that in order to make Nigeria great, Nigerian celebrities need to emulate what Sadio Mané is doing in Senegal and that Nigerian celebrities can do much better for their country.
In his reply to the Twitter user, Peter said that things do not work the way the lady thought it to work. According to Peter, he said that Sadio Mané is one of his close friends, and he even congratulated him on his recent move to Bayern Munich.
Peter said that the football player is not doing all the good work alone in Senegal, that he is getting support from the Senegalese Government.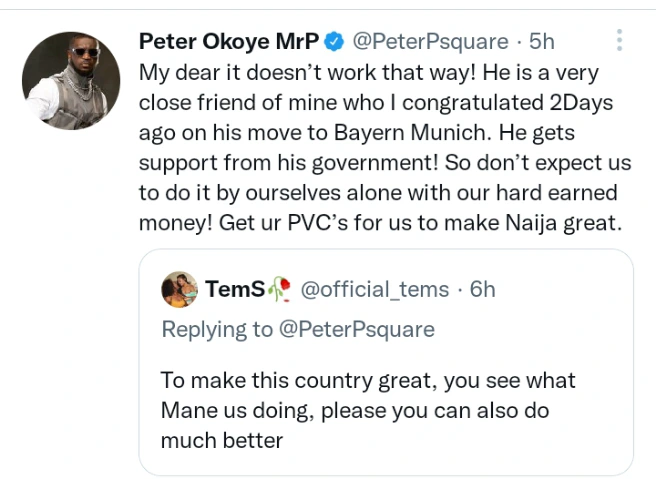 The Nigerian singer went on to say that people should not expect Nigerian celebrities to do it all by themselves with their hard-earned money. He advised Nigerians to get their Permanent Voter's Cards for everyone to make Nigeria great.
What is your thought about what Peter said, do you think the task to make the country better is solely the responsibility of Nigerian celebrities? Kindly let us know in the section below.