There is no comparison between the Sun and the Moon because they all shine when is their time, but relating to football fans most times makes things cumbersome by comparing one player to another forgetting that there are always statistics for every player.
Which will show how they have performed and their achievement alongside the total number of goals they have.
In this article, I will like to bring to the light of my readers, Don't Compare Casemiro With Jorginhno, Check out Their Statistics Last Season.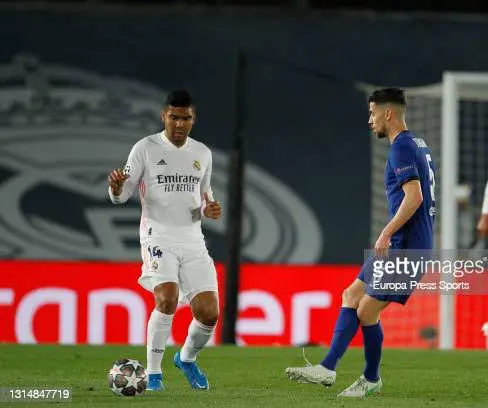 Casemiro
Casemiro with his efforts he has managed to win 105 games and out of the total games, he scored 17 goals for the white in the competition.
Against Getafe, Casemiro played his 150th LaLiga game for Real Madrid. He has played against Celta more than any other opposition in the league (10), while his most wins have come against Espanyol (9).
The midfielder has made 234 appearances for Real Madrid, he won 4 Champions Leagues, 2 European Super Cups, 2 Spanish Super Cups, 1 LaLiga title, 1 Copa Del Rey, and 3 Club World Cups.
Jorginhno
Chelsea star has made 99 Appearances with 54 wins, he scored 13 goals, out of the 13 goals he scored 11 with penalties shootout.
Jorginhno has won 1 European Champion, 1 Champions League winner, 1 Italian Cup Winner, 1 Europa League Winner, 1 Super Cup Winner, and 1 UEFA Super Cup.
In my opinion, Jorginhno and Casemiro are both great defensive midfielders in terms of their playing abilities.
But when it comes to award-winning Jorginhno win more award than Casemiro.
Talking about trophies won, the Real Madrid star is far better than Chelsea star.
In terms of goal scoring, Jorginhno scored more than the Real Madrid star.