Reactions as Northern Elders spokesman says he will never be neutral on matters concerning politics
A lot of reactions have trailed the recent comments of the Northern Elders spokesperson, Dr Hakeem Baba Ahmed on his position in matters concerning Nigeria's political issues.
The said comments were published on his Twitter handle on Wednesday, and directed to a Twitter user who had urged him to "remain neutral for his decency," following his publication titled "Our Next President" on Vanguard Newspaper.
"I am NEVER neutral in politics, Sir. It is not even decent to be neutral on matters as important as politics. I have interests, like everyone, but I try to sustain interests I feel comfortable with. Sometimes I have to justify them to others, and I respect other interests," the NEF Spokesman wrote.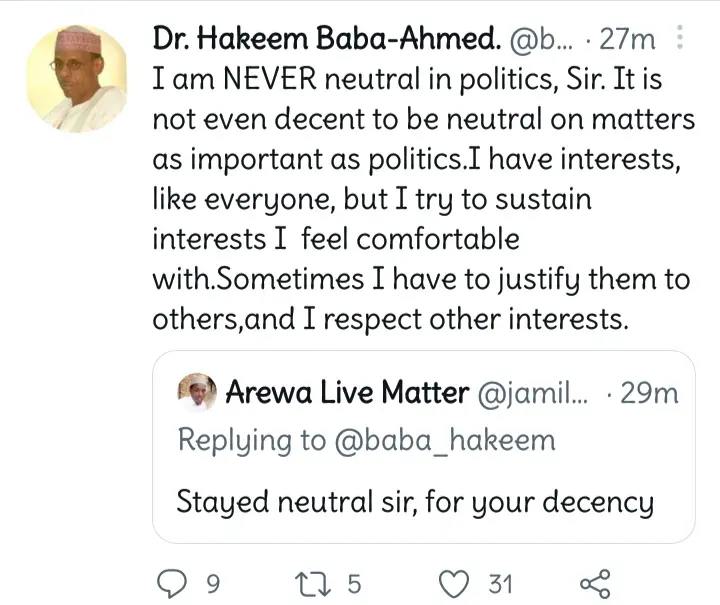 However, in reaction to the tweet, tweeps had this to say about decency in politics.
Chukwu Cyprian: "Well said sir. Why would anyone be neutral in politics that determines one's life. Politics is not a game but it's life, if it not given priority one's life will be wasted just as we have experienced for about 8years now. Politics is a serious matter oo".
Emmanuel Akhilomen: "Nobody should be neutral in this election, all of us are suffering the poor leadership".
Check out more reactions in the screenshots below: