According to a report by Punch, confidants of the President, Major General Muhammadu Buhari (retd.), are currently waiting for him to reveal his preferred aspirant among the presidential hopefuls in the ruling All Progressives Congress.
This, according to findings, explains why the confidants, comprising serving ministers, close aides, and his kitchen cabinet, could not make any open commitment to any of the aspirants as they are waiting to hear from the President the direction he would want them to go.
Many Nigerians who know history have compared Tinubu's scenario with that of Odili, but this is not the case. The two major differences between Odili and Tinubu. The first is that Odili was surreptitiously urged on by Obasanjo and the body language of Obasanjo and his words of praise of Odili became the fuel for Odili's pursuit of his Presidential ambition. That was why when Obasanjo said otherwise, everything came crashing in a single day. Odili's support across the nation was artificial, inorganic, and based purely on his "Donatus" disposition.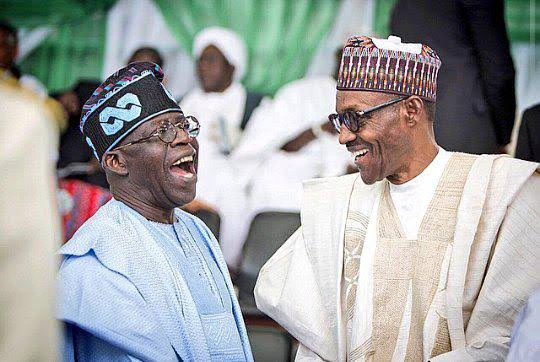 Buhari is not urging Asiwaju on like Obasanjo urged Odili on. Odili was walking on the feet of Obasanjo. Asiwaju is walking on his own feet and if Buhari withdraws his feet he will keep walking. It will then be a matter of how far he can go. Secondly, the political milieu of that time was different. Obasanjo took charge of the party and was never indifferent to the happenings within the party. He was at the party and everything rose and fell with him.
For Tinubu, it's different. Even though it has been rumored that he had an agreement with Buhari when the merger was being engineered, Asiwaju is a man of his own, able to stand on his feet, has cultivated, organic followership which has endured for decades, and has his independent network different from the party network. That is why, although he is not averse to the support of the President, he is not putting all his eggs in the President's basket. So Odili cannot happen to Tinubu. His campaign cannot be crashed in one day.
Additionally, Buhari does not have a history of personal intervention in party affairs. Buhari has never taken charge of APC from the beginning, nor has he taken charge now. That means that Buhari is not APC to the extent that Obasanjo was PDP. Tinubu is not Odili and Odili cannot happen to Tinubu. Tinubu is not in the mix over who will be the APC flag bearer. He has never been. His current posturing is further infuriating the power block behind closed doors.