Aisha Yesufu reacts Asari Dokubo threatens Obidients with AK-47 (Video)
Aisha Yesufu Human Rights Activitist has reacted to Asari Dokubo's threats to Peter Obi's supporters.
National Daily reports that a viral video surfaced online in which Asari Dokubo was seen brandishing an AK-47 while critizing Peter Obi's supporters .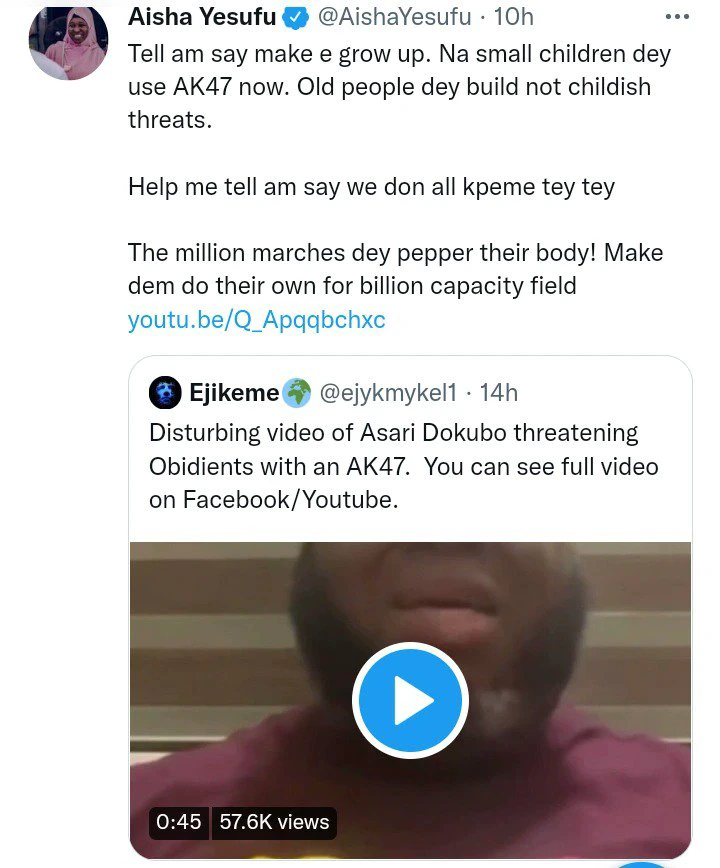 Disturbing Update of Asari Dokubo threatening Obidients with an AK47. You can see full video here

— Ejikeme🌍 (@ejykmykel1) October 3, 2022
This Update got the attention of many Nigerians including frontline Peter Obi supporter, Aisha Yesufu .
She said if the million marches of the obidients make them unhappy, they can do a march greater than that by organising billion marches.
Her post reads, "Tell am say make e grow up. Na small children dey use AK47 now. Old people dey build not childish threats. Help me tell am say we don all kpeme tey tey. The million marches dey pepper their body! Make dem do their own for billion capacity field"