It is no longer news that the supporters of Peter Obi are said to be Increasing daily and gaining momentum in every State across the country. Due to that factor, they seem to have the confidence that their principal stands the chance of winning the forthcoming general election in 2023.
In the light of the following happenings, a staunch supporter of Peter Obi's online campaign team Jack Obinyan has taken to his verified Facebook page to react after Rasul Yeshua said that Peter Obi is all rave in their village in Osun State.
The young man however noted that his father and mother came to visit him from the village as he made It known that the name of the labour presidential aspirant is being praised in every nook and cranny in Osun State.
Speaking further, the young man affirms that it is a wrong idea to underestimate those following the former Governor of Anambra State right now. In conclusion, he affirmed that it is certain in history that a chance would have to occur that is meant to change the status quo of life and he believes they might be experiencing one of such moments.
Mr. Jack Obinyan who seems to be delighted with their progress however stated that he is also witnessing such a surge in the way and manner people are following him (Peter Obi) in his State as well as he affirms that he is in shock As he said that the moment he decided to stand by Peter Obi, he knew he was going to be the first among few to be mocked and he was prepared for it.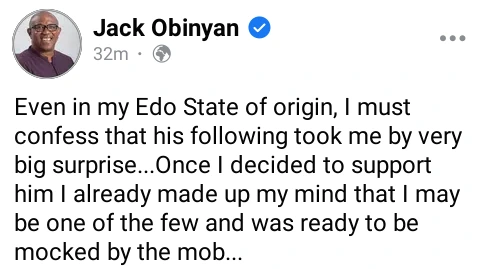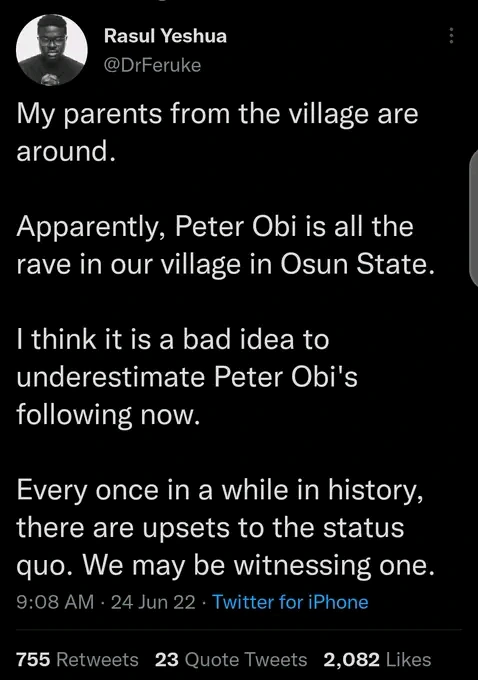 Guys, what are your opinion on this?