By Ikechukwu Amaechi
"This is to notify the general public that this may be my last acts as a human as my house in Umukegwu Akokwa is under heavy attack currently. As I pen this, all the cars in my house have been set ablaze and there is heavy shooting for the past 25 mins.
"Painfully, as I speak to you, I saw them kill my father's younger brother, Uncle Dan. I pray and call for urgent help from anybody who can help. The attackers are shooting at every one in the house and this is an urgent cry for help."
These were the heart-piercing words of Ikenga Imo Ugochinyere, spokesman of the Conference of United Political Parties (CUPP), on Saturday, January 14, when gunmen waged a ferocious war on his country home.
It was, to borrow a military parlance, a scorched earth operation. He survived but his uncle, Dan, and two others were gruesomely murdered. Thirty-two vehicles, most of them for campaigns, were burnt; buildings were levelled with explosives. The destruction beggars belief.
Ugochinyere, who was apparently at home when the attackers arrived, sent out the above SOS message, backed with several videos and photographs, 25 minutes into the assault.
The video clips were like a horror film. Watching them was blood-curdling. Obviously, those who launched the attack came to kill and not to take prisoners and they had a field day without the Nigerian state lifting a finger.
No help came except from kinsmen who were seen running helter-skelter, some with buckets of water, in a futile attempt to put out the raging inferno.
That was the second time he would be attacked in less than one month. On December 23, 2022, his convoy was also attacked in Imo, his home State.
In all these, the security agencies have been, at best, lukewarm. The state government is indifferent and unsympathetic. That is worrisome. Ikenga Ugochinyere is not only the spokesman of the opposition, he is also a House of Representatives candidate of the Peoples Democratic Party (PDP) for Ideato Federal Constituency and a prominent political activist.
But above all, he is a bona fide citizen whose right to life and property is guaranteed by the Nigerian Constitution.
And going by his antecedents as a prominent opposition figure and an unrepentant critic of Governor Hope Uzodimma, the Nigerian State that is well aware of the febrile temperament of the country's political actors ought to have known better particularly given the telltale signs.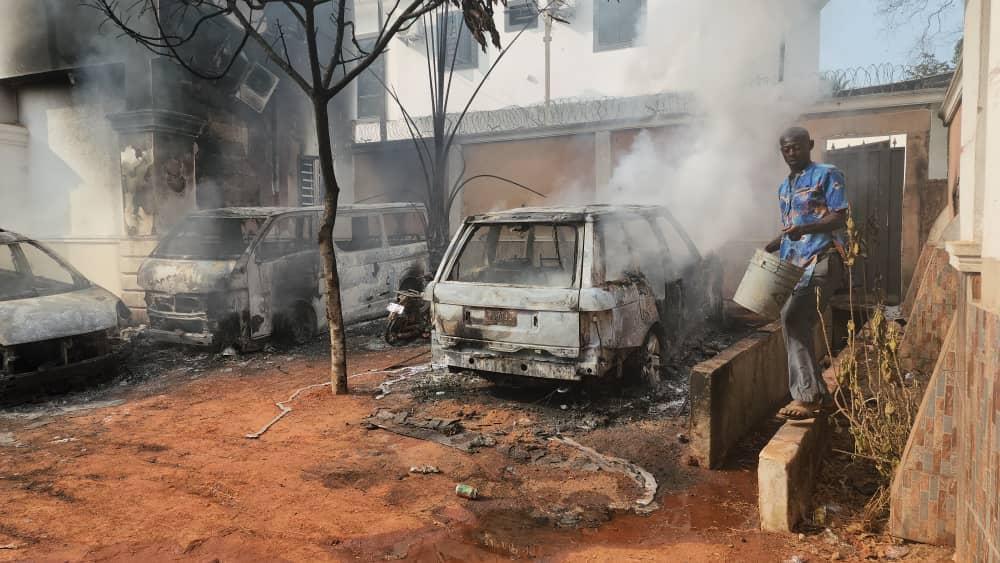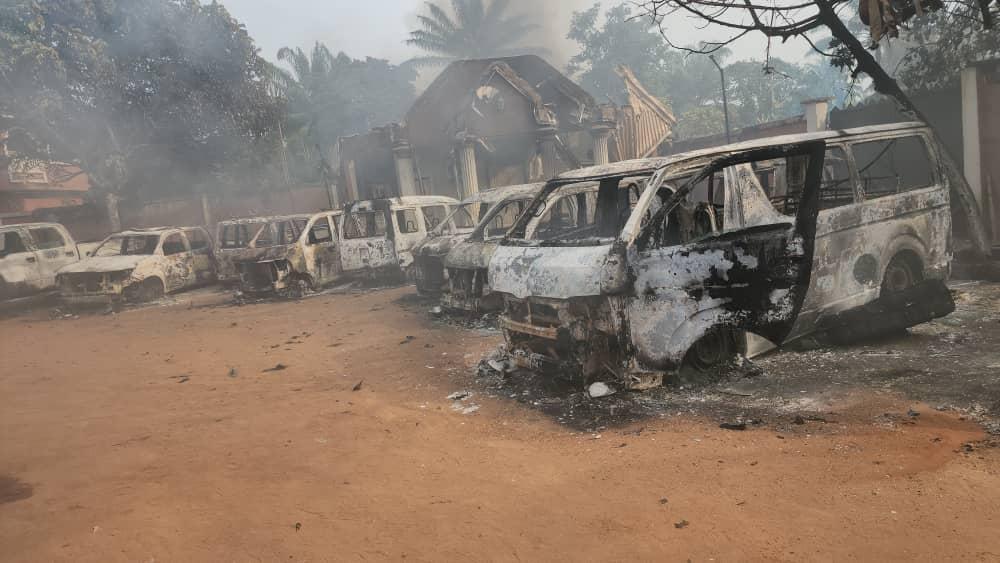 For instance, on September 14, 2022, the CUPP raised alarm that some forces were adulterating the voters register of the Independent National Electoral Commission (INEC); secretly initiated a court case to compel INEC to stop the use of the Bimodal Voter Accreditation System (BVAS) and pressuring the INEC Chairman, Prof. Mahmood Yakubu, to drop his hard stance on compulsory use of the BVAS or get sacked.
Addressing a press conference in Abuja, Ugochinyere said the CUPP discovered that a suit had been filed at the Owerri Federal High Court on August 24, 2022 and pointedly accused the Uzodimma administration of complicity.
These accusations, no doubt, riled the governor to no end and Ugochinyere was declared a persona non grata, even as his claims were subsequently validated by both INEC and the State government.
In its weak attempt at rebuttal, INEC didn't controvert the allegation but rather called for caution.
"The attention of the Commission has been drawn to a report of a press conference addressed by the Coalition of United Political Parties (CUPP) on the Register of Voters for the 2023 general election. The Commission recognizes and respects the right of citizens, either as individuals or groups, to demand explanation from public agencies, including INEC, and to hold them accountable.
"However, it is always important that caution is exercised so that such interventions do not unwittingly sow the doubts in the public mind, thereby diminishing public confidence and trust in the electoral process," INEC said.
In the statement signed by Festus Okoye, INEC National Commissioner and Chairman, Information and Voter Education Committee, the umpire, however, admitted that: "In Oru East Local Government Area of Imo State, where the Commission allegedly registered ineligible persons, 3,316 ineligible registrants have so far been invalidated and the process is still ongoing."
Oru East is the local government of Governor Uzodimma.
Similarly, Imo State Commissioner for Information and Strategy, Declan Emelumba, lent credence to Ugochinyere's allegation when he claimed that: "Unfortunately, an investigation into the suit-claim revealed that the NBA stamp used in filing the suit belongs to a lawyer who is a very close associate of former Governor Emeka Ihedioha, the paymaster of Ugochinyere. Therefore, there is no doubt as to where the whole concoction is coming from and why.
Despite INEC's acknowledgement of the adulteration of the voters register, Emelumba, nevertheless, called for "the arrest and questioning of one Ikenga Ugochinyere for claiming that Voter Registration in Omuma, the home Ward of Governor Hope Uzodimma of Imo State was inflated with fictitious names."
That was not to be but it was obvious that Ugochinyere had become a marked man in Imo
Ironically, the bloody attack took place on the third anniversary of the January 14, 2020 Supreme Court judgement that sacked Ihedioha and handed victory to Uzodimma.
So, it was understandable when the PDP cried foul, calling the bloody assault "an attempt by the usurpers of our mandate to intimidate and silence Imo PDP."
Expectedly, Uzodimma fired back. Short of saying that Ugochinyere, who was labelled a demented mind and attention seeker, stage-managed the burning of his own house just to attract attention to himself and call the Uzodimma government a bad name, Emelumba said he was the architect of his own ordeal.
"A man who is at loggerheads with his party national chairman, a man who is working with anti-democratic forces to cancel the upcoming elections and a man at loggerheads with some of his kinsmen should know when nemesis is after him and stop crying wolf. His ordeal is certainly not from Imo State Government," Emelumba said and wondered why the PDP that said nothing when the country home of Governor Uzodimma was attacked, is now complaining.
To be sure, arson has become a weapon deployed by Imo political gladiators in settling political scores in the last three years in a way that makes the "Wild Wild West" and the "Operation Wetie" phenomenon of the 1960s in Western Nigeria look like a child's play.
Countless homes, including that of late Prof George Obiozor, former President General of Ohanaeze Ndigbo, have been torched and we are still, seemingly, none the wiser about the culprits.
But one fact which has emerged from the attack on Ikenga Ugochinyere's country home is that most of these atrocities are not committed by the much-maligned Indigenous People of Biafra (IPOB). Most people seem to have finally come to that agreement.
What is going on in Imo State is a fratricidal war by determined political forces. Imo has become the Hobbesian state of nature characterised by violence of all against all. In this war of attrition, there are the non-state actors, the so-called unknown gunmen, faceless and amorphous; then there are the quasi-state actors – Ebube Agu – a militia group set up by Uzodimma to fight real and perceived enemies, and of course, the state actors – police, DSS, military, etc.
All of them are involved in this unconscionable shedding of innocent blood. In this jungle where violence has become a franchise, anyone could be killed with or without reason. Your crime could just be being at the wrong place at the wrong time. And you know what? That wrong place could even be your bedroom.
The unknown gunman could be a kinsman who sees in the state of anomie an opportunity to settle scores that you don't even know anything about. That is why it is so frightening and why so many Imolites are keeping away from the State that used to be Nigeria's hospitality hub.
And this mess can only get worse because violence begets violence. Those who have been worsted today will definitely bid their time waiting for the opportune time to strike back believing in Don Vito Corleone's quip in Mario Puzo's classic bestseller, The Godfather, that "Revenge is a dish best served cold."
Truth be told, government is complicit in the ongoing mayhem in Imo State. Governor Uzodimma needs to be separated from his equally determined adversaries in this dance of death. It is high time the elders of Alaigbo stepped in, otherwise Armageddon beckons.