The Deputy Governor of Edo State, Comrade Philip Shaibu, was said to be planning to dump the Peoples Democratic Party, PDP, to join another party.
However, in a swift manner, Shaibu reacted to 'refute' the claim as most politicians usually do when such plot leaks early enough. While responding to the claim on a Programme On Channels TV, Shaibu made three smart political comments that need to be considered beyond their face value. One of those comments revealed that all is not totally well but Shaibu does not want to escalate issues or appear to be challenging his Boss, Governor Godwin Obaseki. This article will discuss the three comments Shaibu made.
First, Shaibu stated that he is loyal to Obaseki. This was the very first thing Shaibu said. By this comment, he simply tried to impress Obaseki by telling the public that he is loyal to him as his principal. When the rumour that Shaibu was planning to dump PDP and defect to another party started spreading, many people said that he is having clash with Obaseki. Consequently, it was viewed that the alleged plot by Shaibu to defect to another party was to break away from Obaseki's dominance and assert his own independence as well as join a platform to prove his popularity in future elections in Edo. That could be seen as signs of disloyalty by some people. Shaibu knows this fact and that was why as a wise man, he smartly addressed this aspect first by pledging his loyalty to Obaseki.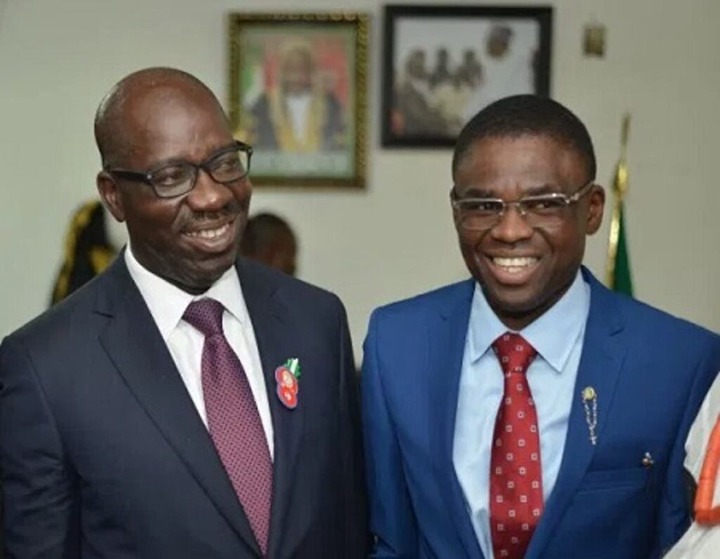 Second, Shaibu spoke in an evasive manner concerning his alleged plot to defect. He did not totally rule out that he may leave PDP in the future. That could be the reason he did not reveal so much about the alleged defection plan. When he spoke about the issue, Shaibu did not totally rule out the possibility that he may leave PDP. He simply made it look like he is not leaving immediately. That was why he focused on saying that he is good with his Boss Obaseki. Experiences over the years have taught people that even if a politician has plans to defect, he/she keeps denying it until it happens. Shaibu's case may not be far from the past trends.
Finally, Shaibu admitted that there are problems in PDP. According to a report by Daily Post, Shaibu admitted that there are problems in PDP which they need to resolve. This shows that some of the claims made by some of the reports that talked about his alleged plot to dump PDP are true. The Deputy Governor simply said that they really need to resolve the problems in PDP. It is possible that Shaibu is waiting to see that the problems are resolved before he would stop any alleged move to defect. If not, he may still defect to another party any time as rumoured.