Joe Igbokwe has received a reply from the popular TVC Journalist Babajide Kolade-otitoju After he gave his opinion on why Igbos can not lead in Nigeria. According to Joe Igbokwe, he said the hate speech, bullying, abuse and bigotry that the Igbos are pouring on other regions is the reason why they may never rule in Nigeria. It
The die-hard supporter of Asiwaju Bola Ahmed Tinubu and APC revealed that Igbos have failed to extend hands of fellowship to other Nigerians and they want to rule, and that is impossible.
Igbokwe stated that we are in the 21st century, and that kind of mentality that Igbos direct towards others, especially to the north is the reason why the presidential throne will be far from them.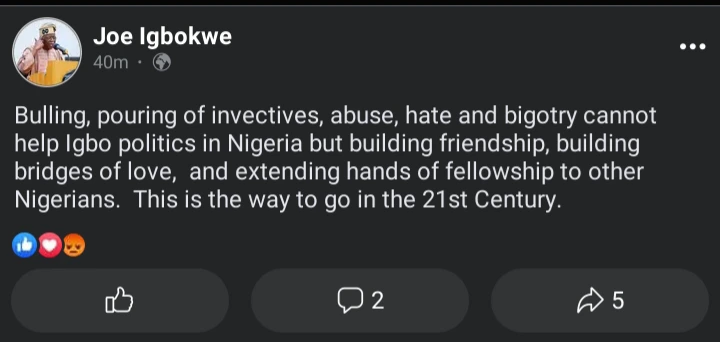 Babajide Kolade Otitoju revealed that Joe Igbokwe is unnecessarily hard on Igbos, although he supports his statement about Igbo's bigotry at some points, it is due to the harsh treatment that is being dished out to them.
Babajide revealed that even the north will react in such a manner and even worse if they are sidelined from participating in governance by the deliberate efforts, of those who want them not to rule in Nigeria.
Furthermore, Jide Otitoju said he does not blame them because they feel that is the only way their voices can be heard by those who are hell-bent, on denying them access to rule in Nigeria.