Roasted animal skin, popularly known as ponmo is one of Nigerians' favorite meat. Almost 50% of Nigerians love eating animal skin.
But the truth is, this meat might be very dangerous to the body and health, according to the national agency for food and drug administration and controls.
Here Are 5 Reasons You Should Avoid Eating Ponmo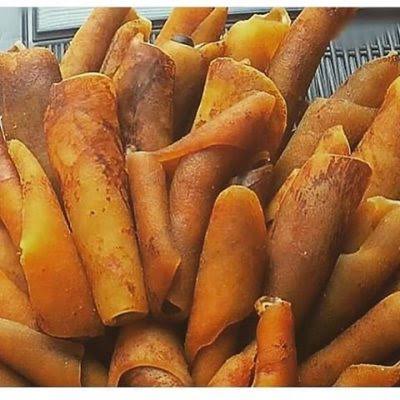 1. Some of these animal skins are meant for industrial use and not for consumption, but many people now eat it or put it in their meals.
2. Some of these animal skins are treated with industrial chemicals in some cases, and such types of foods are toxic and dangerous to human consumption and health.
3. Research shows some of these animal skins are smuggled into the country through the porous borders.
4. The use of animal skins is made for industrial purposes used by leather industries for manufacturing items such as belts, bags, shoes and other things.
5. Health hazards

The consumption of animal skin causes health complications such as liver damage, kidney and heart damage in some cases, and it can also increase the risk of anemia and can also lead to cancer.